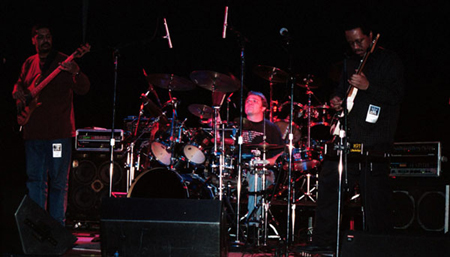 Charles Wright Trio

The Charles Wright Trio is the Washington Metropolitan area's premier Fusion group. They have recorded and performed live alongside various recording artists and legendary notables such as Al DiMeola, Marcus Miller Band, Bill Bruford's Earthworks, Happy The Man, Niacin - Dennis Chambers, Billy Sheehan and John Novello, CAB-featuring Dennis Chambers, Bunny Brunel, Tony MacAlpine, Brian Auger, Project Object w/ Ike Willis Performing the music of FZ, Oteil and the Peacemakers (Otiel Burbridge of The Allman Brothers and ARU), Gongzilla (featuring Bon Lozaga, Hansford Rowe and Vic Stevens), rock blues guitarist Gib Droll and Chicago funk band Liquid Soul. During the fall of 2001, the Trio performed with Saxophone Great Ron Holloway (Dizzie Gillespie Quintet). Also within their litany of accomplishments, the Trio competed with 13 other jazz groups at the Jazz Band Brawl, winning the 1st Place Trophy and a spot in the 6th Annual Takoma Park JazzFest.

Since first performing live together in 1996, the Trio has committed to a busy itinerary of weekly engagements at various D.C. area venues such as Blues Alley, BET on Jazz Restaurant and Sound Stage, DC Live, Metro Cafe, Clyde's of Georgetown, Bangkok Blues and, Bayou Blues Café, Cafe Tattoo and 13th Floor in Baltimore, Zigs in Alexandra, American Cafe, Fino's, The Saloun in Georgetown, Cafe Toulouse, Green Island Cafe and Madam's Organ in Adams Morgan, Cincinnati Cafe, Ned Devins and Paolo's in Reston, and Phantasmagoria and Taliano's in Maryland, Wild Azalea in Crystal City, Rhodeside Grill, Whitlows On Wilson and Clarendon Grill in Arlington. The Trio performed special events at Borders Books and Music, Tower Records, Richmond Jazz Society, Al Fresco Festival at Crystal City Waterpark and The Takoma JazzFest. Since the release of the new CD "the time is wright", the band has played to sold-out shows at The State Theatre, Warner Theatre, and Jaxx Concert Hall.

Charles Wright, an accomplished musician on guitar and guitar synthesizer, also gifted with perfect pitch, assembled the Trio in 1996 to create an ensemble of talent to do some fusion. Charles set out to perform a versatile sound audiences don't usually hear on the radio. Calling on the talents of bass guitarist, Michael Pryor, a fellow alumnus from The Duke Ellington School of Performing Arts, and drummer, Sean Peck, former band member of Cross Currents, Charles found the perfect fit for his vision. Individually and collectively, the Trio members have amassed numerous years of valuable experience in the music industry. Each member possesses a seasoned maturity in the professional music arena.

The group describes itself as progressive complexity, mixing elements of funk, rock, jazz and Latin idioms. This powerful Trio tests the laws of physics with its amazing chops, syncopated rhythms and shifting time signatures. The band is continuously composing and adding new originals to their vast repertoire and performing to receptive audiences. The fusion-fest on the new CD is just the tip of the iceberg. They are now recording their second CD due out later this year.

They innovatively demonstrate recognized cover tunes. Well known for their unique selection of music and incredible dexterity of performance, the group strives to present more eclectic compositions written over the years by such artists as Allan Holdsworth, Jeff Beck, Frank Zappa, Dixie Dregs, Brand X, Bill Bruford, Return To Forever, Tribal Tech, Bill Connors, Billy Cobham, John Scofield and Lost Tribe as well as more traditionally performed works by artists like Miles Davis, Herbie Hancock, Dizzie Gillespie, Chick Corea and Charlie Parker.

The Charles Wright Trio has a future that can go further than sound travels.